Behind Enemy Lines (Part Four)
Author:
alvara13
Pairing
: Sam/Dean
Rating
: NC-17
Word Count:
3600~
Disclaimer:
I own nothing. Just playing with the boys.
Summary:
A murder comes back to haunt a punk bar in the deep underground of a heavily populated city, leading the Winchesters into a complex hunt buried in twenty seven years of vengeance and obsession. Sam and Dean will have to go undercover to dig deep into the past of this case, but will they be able to cope when they discover more than just the reason why someone or something is killing every punk in town?
║
Part One
║
Part Two
║
Part Three
║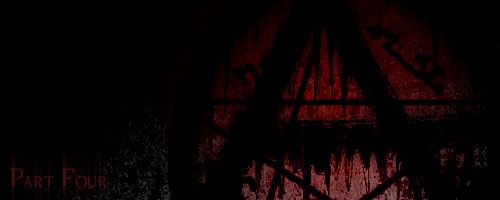 ---
It had only been fifteen minutes since Dean slipped out of his sight when Sam finally got his follow up call from Bobby. He had reached the limit of what resources he could collect from the local library and his research online had ranged from incubi to ghosts to demonic possession to BDSM porn sites. Bobby had a better and wider range to search through and after being sent the details, he knew exactly where to look and find what they were dealing with in just a few hours.
"It's a Deildegast, Dean." Sam stood on the sidewalk, drumming his fingers on the open passenger's side door of the Impala as he spoke into Dean's voicemail on his cell. "It's a Norwegian ghost connected with the sanctity of old border-stones. Bobby dug up a few scraps of lore and found that Mr. Brook twisted some ancient curse after his son went missing. And now this bar is paying for it."
Sam glanced along the street, knowing that fifteen minutes wouldn't get Dean anywhere but he couldn't just stand there knowing Dean didn't know what they were up against. He smiled politely as a punk couple passed him, keeping his voice down until they were out of hearing range.
"The 'border-stone' can be twisted into a metaphor. Brook lost his wife to cancer and his son just vanished after visiting the bar. He probably wanted some revenge on whoever he thought was responsible for taking what was his when the police refused to do anything. The first three vics, Seth Patricks, Karen Gilmore, and Kyle Hanten, they're our Deildegast and are killing people with what could be some form of ghost sickness. It all fits." Sam gripped the car door tightly for a moment, eyeing the Matchbook with his FBI badge weighing heavy in his jacket pocket. "Call me when you get this or I'll bust your cover in ten."
---
The air was knocked out of Dean's lungs as he was thrown violently against the floor of the bar's upper balcony, the sting of the initial crack of hitting his head against the polished wood singing in his skull and disorientating him while he gasped for breath.
He heard the sound of heavy boots approaching over the loud wail of the music as he struggled to move, rolling his weight onto the side that didn't feel like his shoulder blade had crashed into his spine. Dean was still struggling to shake the sharp sting rattling his skull and reach for his gun when he found himself pinned to the floor by an unseen force, leaving him to stare up at the ceiling and really hope he wouldn't need Sam to wake him every hour that night for a concussion.
Two hands fisted into his jacket, lifting him up to meet the hazel eyes of one of the punks he had seen in one of Sam's research articles. The blond fauxhawk, heavily pierced ear, lip ring, and blue checkered tattoo sleeve peppering the dead man's features were hard to forget from the old newspaper clippings.
"You always play this nice with your victims? Or am I just special?" Dean grinned through the throbbing in his skull, his head snapping to the side with another sickening sound of his lip splitting as one of the fists let go to slam into his face.
"Most aren't hunters." Dean felt the gun slip from under his jacket, the metal scraping across the wood as it was thrown out of reach and slid further along the balcony. "I've had time to scope you out and if you're capable enough to get this far, you can help me."
"Yeah? Which graveyard are your bones rotting in? I've got a guy that can torch them in ten." Dean choked out, a hand clasping around his throat and tightening in order to shut him up.
"You're not the first hunter to try that. Seth and Kaz got to them before they even thought of a plan 'B'. They don't want to leave like I do." The tight hold around his neck loosened, letting Dean gasp for air again as the ghost straightened itself from hovering over him. Dean clutched at his throat, sitting up more and glaring up at the flickering image of what was once Kyle Hanten.
"Sounds like you've been at this a while, gone through a lot of hunters..."
"Twenty seven years. Being dead gets old after the first two." Hanten rubbed the knuckles of the fist he punched Dean with, the word 'Sara' engraved in ink across the skin. "We're here because of Seth's stupid fix-it plan and now I'm going to clean up after his mess again with you."
"Yeah? Sorry, pal. I'm not much into helping ghosts who rack up a body count." Dean glanced over in the direction his gun slid, his head throbbing in rhythm with the blood rushing in his ears over the music and unaware crowd just over the rails of the balcony. A rough cold hand forced him to look at Hanten again, fingers digging into his skin as he felt a sudden piercing heat rush into him.
"I lost my sister and I wasn't there because of Mr. Brook. I was the only one who took care of her and paid her hospital bills. She was five and on her own. I can't even visit her grave." Hanten glared at him though his face looked more clam than angry as Dean grabbed at his arm, trying to yank Hanten's hands off him as he gasped at the heat and felt small pin pricks of pain spark inside his chest. "I've lost too much to bother caring about others anymore so don't think I won't make that hunter in the suit lose you."
Dean choked off a moan at the thought of Sam, shoving at Hanten as his mind started to cloud over rapidly. He reached out for his gun, knowing it was out of reach but he had to do something to prevent himself from becoming the next person whoring themselves out before dropping dead on the street.
"Fifteen miles out along the old ranch road, before you reach the farms, there should be the body of Stephan Brook. Take it back to his father's house and burn it. One of you hunters said that would work but he didn't make it before Seth and Kaz caught on to his plan. If he was wrong, you'll just be another person who couldn't help me see Sara again."
Dean was gasping and torn between struggling to get away and writhing for more touch, only hearing half of the words as he threw his head back into the floor again from frustration. He felt as if he were drowning under the burn of the fingers digging into his skin, the pin pricks of pain and need settling low in his mind and nesting in his subconscious. When he finally found enough air to cry out, Hanten had vanished, leaving him to roll onto his side and off his aching shoulder.
The effects of what Hanten did to him dulled inside him before gradually building again, the itch to satisfy something crawling deep under his skin, changing back and forth from a dull throb to a raging need that he just had to scratch. Dean swore under his uneven breathing, managing to move just enough to grab his gun before resting his forehead against the cool metal of the balcony's railing. The crowd moshing below went quiet suddenly, the music muffled enough to grab Dean's attention from the feeling of a million tiny pinpricks of lust and heat abusing his body.
A loud authoritative voice calling over the crowd and the sight of his brother busting in and flashing his badge made a low keening sound of Sam's name slip from Dean's lips. His hand moved down under him to cup his rapidly filling cock, the realizations he had at the diner rising to the forefront of his mind and making his hips buck into his palm. He bit his lip hard, wanting nothing more than to feel Sam fuck up into him just on the right side of brutal, to feel the sweet burn and ache of being stretched out on Sam's cock and used by Sam until he was practically gagging for his own release.
"Son of a bitch." Dean groaned more from pleasure than anger, forcing himself onto his feet and using the railing to keep him from collapsing to his knees and begging for Sam to fuck him into the floor.
---
Sam had to throw him out of the employee's only door, half for show and half to keep Dean from completing his mission to disrobe Sam as quickly as possible. He watched Dean stumble backwards and catch himself on the opposite wall, his chin falling to his chest as he panted like he was getting off on Sam throwing him around and the toss had hurt more than it should have.
"Dean, what the hell happened? You were only in there for twenty five minutes!" Sam shut the door behind them and moved to pin his brother to the brick wall before he could recover enough to make another lunge for him. Dean's hands shot out to hook his thumbs into the belt loops of Sam's jeans, yanking Sam hard enough to force their hips together before he groaned and ground his desperately into Sam's.
"Met Kyle Hanten." Dean choked out, barely able to force himself into thinking in words other than 'more', 'please', and 'Sam'. He moved to kiss along Sam's neck, moaning in disappointment when his brother moved out of reach to prevent him from adding to the wet hickeys he had already littered down that beautiful neck.
"He's a Deildegast." Sam paused to grab Dean's hands when they moved to fumble with his belt buckle, nearly succeeding in slipping the leather through the metal before his wrists were seized and dragged upward. "He's been infecting people with ghost sickness. Did he grab you?"
"Forced me to the ground, a lot like how I wish you where doing right now." Dean flicked open one of the buttons on the plaid button up shirt, breath hitching at the sight of more of Sam's skin. "Wanted to get help but they kept dying."
Sam pulled his brother's hands up higher once his fingers started to slide into his shirt to run across any bare skin reachable, pinning his arms above his head without thinking. Dean's lips parted as he moaned breathlessly at the position and how Sam was forced to pin him down with his weight, his words slurring slightly as if he were drunk but he didn't reek of alcohol anymore than usual.
"God, it feels like there's a million knives inside me but all I want to do is get fucked." Dean groaned, trying to twist his wrists out of Sam's hold and down to tug off his belt again. "Please, Sammy."
"Dean…" Sam was forced to swallow down his libido, honestly wondering if the ghosts were trying to kill them both from making him have to deny Dean. No matter how much he craved to give in and give Dean what he was begging for, he knew he couldn't. "What did Hanten want? What did he tell you? Dean!"
He shook Dean a bit, noticing that he was no longer listening to him. His gaze was transfixed on Sam's half hard cock like he'd trade all the pie in the city for a chance to rip open the fly of Sam's jeans to just see it right then. Dean's eyes slowly moved back up to his, clouded with lust and making it obvious that getting through to Dean by yelling was becoming less of an option as the ghost sickness wore on.
Sam licked his lips before giving in and crowding into Dean's space, no longer keeping a good few inches between them while he switched tactics. He could feel Dean's chest rising and falling with his heavy panting, the hitch in his breath, so similar to the ones he heard on the long nights when there wasn't an open bar for miles, echoing right next to his ear as he let his hot breath slide across Dean's neck.
"I won't give you anything if you don't tell me, Dean." Sam brushed his lips against the parted pleading ones in front of him, the light touch making Dean go lax in his hold and his bow legs spread more to accommodate the leg slipping between his to press into his throbbing confined cock. "Think for me."
Dean's breathing picked up, panting harder as he tried to lean into the light touch and force it into one of the heated kisses Sam had given him earlier. Sam leaned away before he could, nipping at the labret just under his lip in retaliation for attempting. He closed his eyes, resting his head against the brick wall behind him and waiting only to feel Sam's soft lips parted against his and still just barely there. A shiver went down his spine, making his cock twitch as he felt Sam's thigh shift against him but not creating enough friction to relieve him of the painful urge to come and beg and fuck.
"I really can't think like this, Sammy." Dean breathed, Sam's name falling from his lips like a soft prayer as he tried to push past the thick fog inside his mind and the building pressure of blind need for anything and everything Sam. He could feel what ever Hanten had put inside him, infected him with. It was curling around deeply suppressed feelings he had just shoved back down that morning without incident and yanking them back up to the surface with nearly physical force that felt like claws cleaving through his skin.
It felt like he could make it right with just one more kiss from Sam, undo everything if he just lay down and let Sam have him. Under the heavy layer of lust and the urge to fuck though, he could feel the wrongness of several needle-like pinpricks burrowing under his skin and it hurt just enough for him to be aware of it. He clenched his fists in Sam's hold, trying to ignore that everywhere Sam touched the pain fled, only to leave him craving more relief from the underlying pain and the consuming desire eating away at him.
He moaned loudly when Sam finally leaned in and kissed him, his mouth hot on his and he didn't need much persuasion before he parted his lips and let Sam's tongue tangle with his own in a way they were both becoming quickly accustomed to.
Dean tried to chase Sam's lips when the kiss ended too soon for his liking, opening his eyes to meet Sam's hazel ones. He was mesmerized by the intensity of lust present in them but even that was overshadowed by the worry lining his brother's face.
The longer they stood there, the worse it became to think clear. Only once or twice he could actually feel the pain inside him and it became less noticeable as seconds ticked by but he knew it had to still be there, carving up him from the inside out while he writhed under his brother. At least it would make his ride down justified.
"Dean?" Sam looked panicked now and Dean didn't know how he looked but he was guessing somewhere between an animal in heat and a drug addict looking for his next hit. He swallowed hard before closing his eyes and tilting his head back, fighting to think back to what was minutes before but felt like ages now.
"Fifteen? He said fifteen miles out. Out along…Fuck, Sam, I can't do this…" Dean groaned, hearing the blood rushing in his ears as his breath hitched painfully from the lack of more skin on skin contact. "I'm going to kill that son of a bitch…Old ranch road…there's a…a body."
Dean felt himself go lax again, his knees going out on him when he felt Sam's lips brushing against his bared neck. Sam caught him before he could slide to the concrete, the urge to grind his hips into Sam's heated touch too great for him to ignore. He arched his back and swore loudly when Sam cupped his aching cock through the denim of his jeans, so desperate that even the smallest grope from Sam could make him nearly come in his pants.
"Burn it at Mr. Brook's home. God, that's all. Please, Sammy. Want you to fuck me!"
Dean dived for another kiss but Sam spun him around and slammed him against the wall roughly before he could get another taste of him on his lips. He moaned loudly, bucking his hips against Sam's as his hands were pulled behind him. His moan turned into a disappointed groan when he felt cool metal click around his wrists, knowing he couldn't reach out and touch Sam while handcuffed but a quiet part of him that was growing startlingly louder made him moan at being bound under Sam with no other choice but to take everything Sam was willing to give him.
"Sorry, Dean." Sam muttered, swallowing down his own arousal as he manhandled his desperately horny brother into walking in the direction of the Impala. He ignored the small breathy noises leaving Dean's lips and the fact that the only way to convince him into getting in the car instead of fucking on the hood was to mention being in a cramped space together.
Instead he chose to focus more on trying to figure out where a body would be along a stretch of road for twenty seven years, a bunch of panicked punks probably didn't even think to give Stephan Brook a proper burial so it was going to take a while to find it if he didn't focus on something other than his hormone crazed older brother begging for him to fuck him hard, fast, and dirty.
It didn't help that Dean had a mouth on him that could twist words in ways that would make his dirtiest fantasies seem tame and seasoned hookers blush. It was even worse that he wasn't afraid to make use of his talents to the point where Sam debated gagging him if he didn't have anything other than his aching hard on to do it with.
---
"Aw, you son of a bitch!" Dean shouted from the inside the locked Impala, writhing in the worsening mixture of pleasure and pain as the cuffs restraining him from touching himself rubbed angry bruises into his wrists. He smacked his feverish forehead onto the side window as he grunted and groaned in two kinds of frustration, opening his eyes for a moment to catch sight of Sam shoving a shovel into the ground of the ditch below again.
Sam had been at it for nearly an hour now, only stopping from his search when he heard Dean's moans dip too far into the pain spectrum to hover worriedly by his side and touch him lightly in places to check his pulse. Dean reveled in the soft touch against his skin when he could, the pain lessening each time with every touch and comforting word Sam uttered to calm him down. Had he been able to spare enough brain power to think straight, Dean might not have noticed the hitch in Sam's breath when he lunged forward to suck another obvious mark into his neck each time Sam came too close to him or lingered too long.
As far as he could tell, Sam had only found the skull of Stephan Brook but the rest of the remains where scattered or done in from thirty years of sediment, weather, and starving animals. Sam had refused to give in though, checking the time often and mentioning quietly that Dean might have at least two hours more before he was fucked and not in the way he'd been begging Sam for.
Sam threw off his shirt after a few more minutes of digging, the cool night air not enough to stop him from sweating through the heat of digging along the stretch of road for too long. He wiped his forehead with his shirt before tossing it on the hood of the Impala, ignoring the hungry looks Dean was giving him from inside it in favor of kicking the shovel back into the thick dirt.
After another thirty minutes, he collected up the few small bones and the skull he had found. The sinking feeling in his chest wasn't helping when he folded up the ripped remains of the bed sheets Stephan had been thrown in the ditch with into the trunk. He knew he was running out of time before Dean would be really suffering, running on the small bit of hope that returning at least part of Stephan would be enough. If it wasn't, he'd just have to find a way to make it work.
"Hey, Sammy." Dean breathed when Sam slid back behind the wheel and started the engine again. "If this goes sour, do I get a last request?" Sam let out a small laugh that died out quickly.
"It's not going to go sour and I doubt you're able to request anything more than sex like this."
"Yeah, maybe you're right." Dean writhed on the seat more, his legs spreading until one was touching Sam's. "But do me a favor and follow through with that? Might be asking a lot, but I've been thinking over it since before this stupid mess."
"Dean?"
"Can it. Don't go all chick flick on me, I don't know what I'll say to get you between my legs." Dean felt the heat flare up inside him again, the desperation hitting him like a tidal wave. "Just drive before I come in my pants, would you?"
---
Part Five